Capture Plate - Compatibility chart
Every SuperGlide Hitch Needs a Capture Plate to Function
SO LETS FIND THE RIGHT PLATE FOR YOUR TRAILER'S KING PIN BOX...
Capture Plates are a required component of the SuperGlide hitch system. When the trailer is hooked up to the hitch, the Capture Plate's wedge isolates the king pin from turning in the fifth wheel plate, causing the Cam Assembly to activate and allowing the SuperGlide to move as turns are being made. Most applications slip over the king pin and are held in place by a set screw. Follow the instructions below to determine your correct Capture Plate.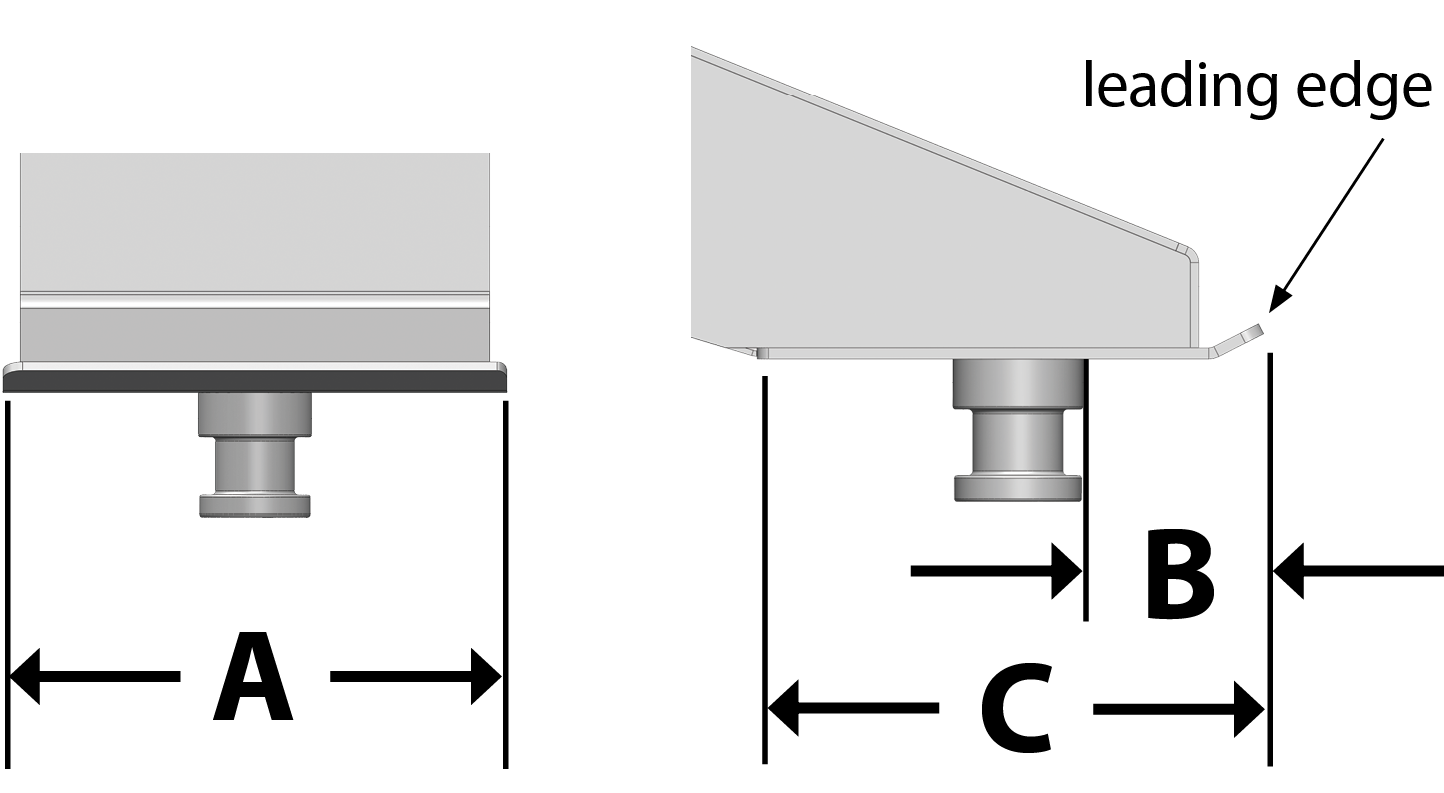 1) Find the manufacturer's name and model number located on your pin box.
 2) Then find the Quick Connect part number that corresponds to that information.
 3) To ensure correct fit, make the necessary A, B and C measurements:
 A: Measure the king pin plate from side-to-side. This is the most important measurement.
Be sure that this measurement is no more than 1/16" less than the measurement listed in the column below.
 B : Measure from the leading edge of the king pin to the leading edge of the king pin plate.
 C : Measure from the rear edge to the leading edge of the king pin plate.
King Pin Box Manufacturer

Part Number

King Pin Box Model#    

Measurement A

Measurement B

Measurement C

5th Airborne

Most Models

10-1/2"

6-7/8"

14-1/4"

5th Airborne

Most Models

12"

7-7/8"

19-7/8"

Demco (not for use w/ Universal)

Most Models

10-3/4"

5"

11-7/8"

Demco not for use w/ Universal)

Most Models

11-1/4"

5-1/8"

12-1/16"

Dexter

14-3414

Most Models

12"

5-9/16"

12-1/4"

Fabex

500's, 765, 770*

13-1/2"

3-1/4"

9-1/4"

Fabex

Most Models

12"

4-5/8"

11-3/8"

Leland

Most Models

14"

5-1/2"

12-1/4"

Lippert (long)

1621*

12-3/4"

3-3/8"

8-7/8"

Lippert (long)

1621 HD*

12-3/4"

4"

8-7/8"

Lippert (long)

1621*

13-1/4"

3-3/8"

8-7/8"

Lippert (medium)

1116*

13-1/4"

3-1/2"

9-3/16"

Lippert (long)

1716*

13-1/4"

3-1/4"

8-7/8"

Lippert

0719**

12-3/4"

6-3/8"

12-1/4"

Lippert Rhino Box

Rhino

7-3/8"

2-5/16"

7-3/4"

MOR/ryde (not w/ Universal or Multi-fit)

Rubber Cushion

13-1/2"

7-5/16"

17-1/2"

MOR/ryde (not w/ Universal or Multi-fit)

Standard

12-1/2"

4-1/8"

8-7/8"

Trailair Rota-Flex/Road Armor (not w/ Universal or Multi-fit)

Most Models

13-3/8"

5-3/8"

11-7/16"

Trailair Rota-Flex/Road Armor (not w/ Universal or Multi-fit)

Most Models

13-5/8"

5"

11-7/16"

Trailair Flex-Air

Most Models

13-1/4"

6-1/8"

12-3/4"

Trailair Tri Glide Airbag/Shock Pin Box

Tri Glide Only

12-3/4"

5-15/16"

ALL

Trailair Airbag/Shock Pin Box

Most Models

13-3/8"

7-3/8"

13-1/2"

Reese Revolution

10K Pin Box

10-1/2"

4-1/4"

11"

Reese Revolution for 16K w/ spacers)

16K or 21K Pin Box

13" or 12-1/2"

4-1/4"

11-3/4"

Multi-fit and Universal Capture Plates

Multi-fit Capture Plate

*Fits the indicated pin boxes above

12-3/4" through 13-1/2" and 14"

2-9/16" -- 4"

ALL

Multi-fit Capture Plate

**Fits the indicated pin boxes above

12", 12-1/4" or 12-3/4"

5-3/16" -- 6-5/8"

ALL

Universal Capture Plate Kit

14-2979

INCLUDES:  Universal Capture Plate, Fore & Aft Plate Extensions, Knee Braces & Hardware